• What is Medal ?
The initial version of Excellence software was released in the Scandinavian domain in the late 1990s and was used limitedly by European companies. The cost of this software was about one hundred thousand dollars. In recent years, several types of software in this field have been prepared and presented in Iran, but most of the presented versions include the field of self-assessment and do not include all the components of the model.
Medal software executive team consisting of software and industry engineers with more than 15 years of experience in implementing and executing excellence models and also using the latest programming methods since 2014 has designed and implemented different parts of the software with the purpose of eliminating challenges in the implementation of the model in superior organizations. In designing this software, special attention has been paid to several key points:
Teamwork (cartable procedure)
Systematic documentation
All model points based on the radar logic
Emphasis on defining, prioritizing, selecting and implementing improvement programs
Determining the effectiveness of implemented improvement programs
Organizational excellence models have been able to provide a suitable framework for managing organizations in a competitive environment by modeling successful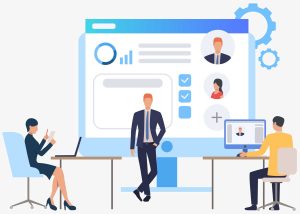 companies in the world. The distinctive feature of these models is the type of attitude towards the organization (holistic) which allows the management to evaluate the
 organization under its command and be able to compare it with other similar organizations. On the other hand, models are usually designed to allow the organization to utilize various techniques.
The success of an organization is a continuous process which begins with planning
 and goal setting, is determined through continuous evaluations and the use of predetermined goals, shortcomings and inadequacies and is done with the necessary corrections, removal of obstacles and reinforcement of strengths. The starting point of any change and improvement is a complete understanding of the current state of the organization and finding its problems, which is called a complication.
• Some features and capabilities available in Medal software include:
Company / organization information Company ID

Company scope
Chart
Documents and
processes
The path of excellence
Rival

 Stakeholder information

Staff
Business partner
Shareholder
Society
Customer

 Products and services information

the product
Service
Segmentation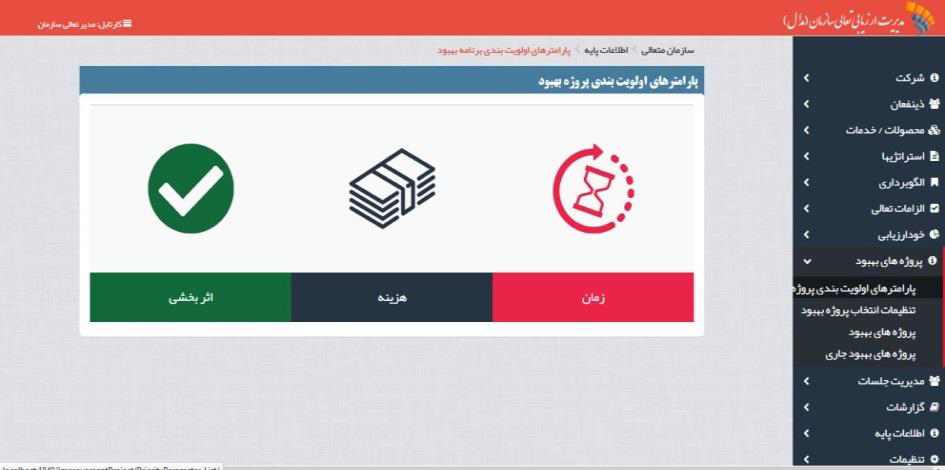 Strategies


The main strategy
Sub-strategy

 Modeling


Modeling reference
Modeling and determining modeling
indicators

 The requirements of excellence


Members of Excellence
Excellence teams
Evaluation period
Approach and evidence
Enablers ID card
Model of excellence
Scope of activity of members
Map of enablers
Final adoption of approaches
Indicators of the organization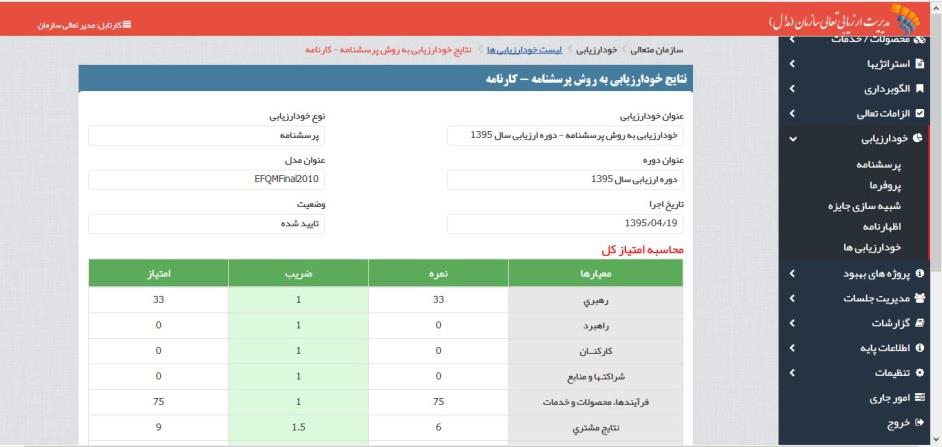 Self-assessment


Self-assessments
questionnaire
pro forma
Bonus simulation

 Declaration


Produce a 50-page draft declaration
Generate a draft 100-page declaration
Generate draft declaration 94+

 Improvement projects


Improved project prioritization parameters
Improved project selection settings
Improvement projects
Prioritize improvement projects
Identification and implementation of improvement projects
Determine the effectiveness of improvement projects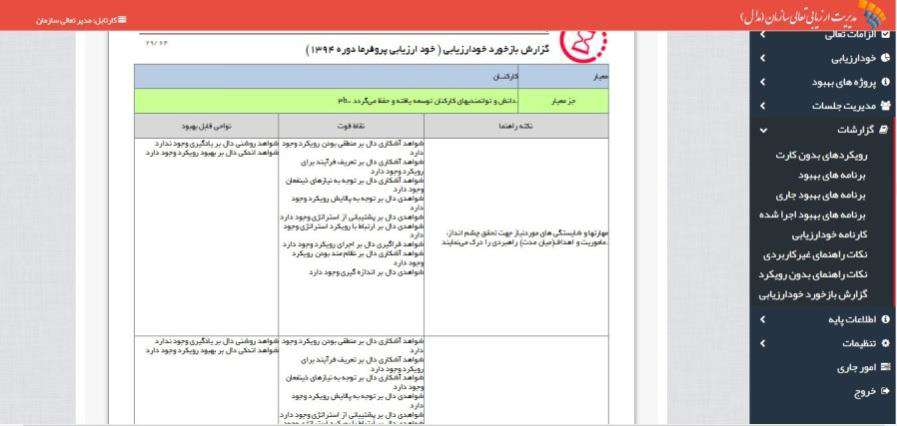 Meeting management


Meeting management
Manage meeting notifications
Minutes management
Evaluate the guests at the end of each session
Ability to define and weight the evaluation
parameters of the guests

 Reports


Self-assessment report
Self-assessment feedback report
Guidelines without an approved approach
Non-functional model guide tips
Approaches without ID cards
Improved improvement programs

 Operations management


Manage user access levels
Create a card for each user